Beautiful scenery moves people.
Our landscapes - where we go to escape.
Why is it that so many people want to spend their leisure hours in the hills?

-To be reminded of the smallness of human life in relation to geological time?
- To be taken by surprise by the changing sunlight and weather?
- To feel closer to nature?
-Or simply to go to a place that is not where they work?
Those idyllic scenes are fading!
Steadily, relentlessly. The amount of tree cover reduces every year. Field boundaries are torn out to make for 'more efficient' land use.
Many of us now could not find a landscape that is not wholly man-made without travelling to another country (Why are there no trees on those hills? Why is that field that shape?)
This is the time for us not just to nod sagely at what is going on around us - this is the time for us to press for action - restore the landscapes!!
Trees eat up pollution (carbon capture) - the number and frequency of extreme climate events has increased and continues to increase year after year...... planting trees is a simple and obvious step we can all take.
Landscape painting. Bringing the outdoors indoors.
Exploring the outdoors, getting away from it all, is good for us..... to recharge, to see, to breathe, to wander and wonder.
BUT - there is never enough time.
So - my mission is to capture in paintings some of the feelings, the uplift, I enjoy from my own wanderings.
I strive to capture something of the great outdoors in my work, and also offer some comment on scale - huge horizons, enormous geology, fleeting changes in the light - how do these contrast with city life?
And - gazing at a landscape painting in your home might help - while you enjoy looking at it, maybe it can also be a constant reminder of our collective need to restore the balance?
This site contains a few samples of my work, I hope you enjoy browsing. Some paintings are For Sale - Enquiries welcome with no commitment. email beaconsart@yahoo.com.

My Work
If I am to succeed in capturing my own exhiliration from the landscape, I must spend time out there - but - unlike the French Riviera, our climate changes from day to day. The sun will probably not be there again tomorrow, so I have to work quickly.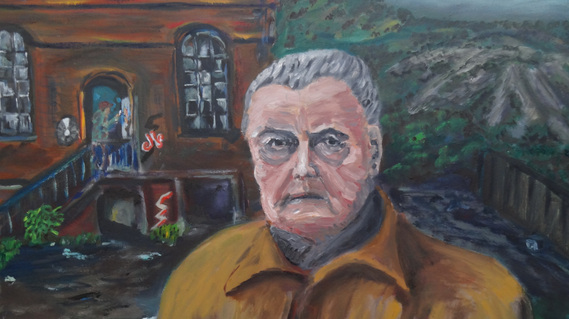 The Landscape
Is where we live, exist, where we wander, reflect and dream.

(This painting is 'Lower navigation Colliery, Alun'.)
Biography
I began painting seriously in 2013. Before that all of my creative energy - and time - was taken up with the greasy pole of career. My training was in Edinburgh where I was fortunate to go to a school where the art staff were committed to traditional teaching.
Eventually I was able to commit time to painting and have developed my expressive outdoor style.
My work has been shown in:
Waterloo Gardens exhibition space, Roath, Cardiff
The Gate, Roath, Cardiff
Pierhead Building, Cardiff Bay
Crickhowell Open Studios
Ardent gallery, Brecon
Queen Street gallery, Neath
Welsh Government Senedd building (see left)


My work has sold to clients in South Africa, Florida, California, Germany, Scotland and across South Wales of course.




Art as an Investment
I have been selling my work now for a number of years and have enjoyed the dialogue this brings with buyers.
It is a fact that most of those will have paid more for their sofa than they will for the painting that hangs above it, but I have to acknowledge that the sofa comes closer to the 'essential' category than my painting ever will.
It is also a fact that the painting should outlive the sofa, and there is the possibility that at the time the sofa needs to be replaced, the painting could be worth more than was originally paid for it.
This possibility is clearly in the interests of the artist as much as it is for the buyer, but I cannot make any promises about future value except the assurance that I intend to maintain my efforts.
In the meantime, my advice is always choose a painting that you enjoy looking at. If it does increase in resale value, that is a bonus. Its' true value is your enjoyment of it while it hangs on your wall.